店長ブログ!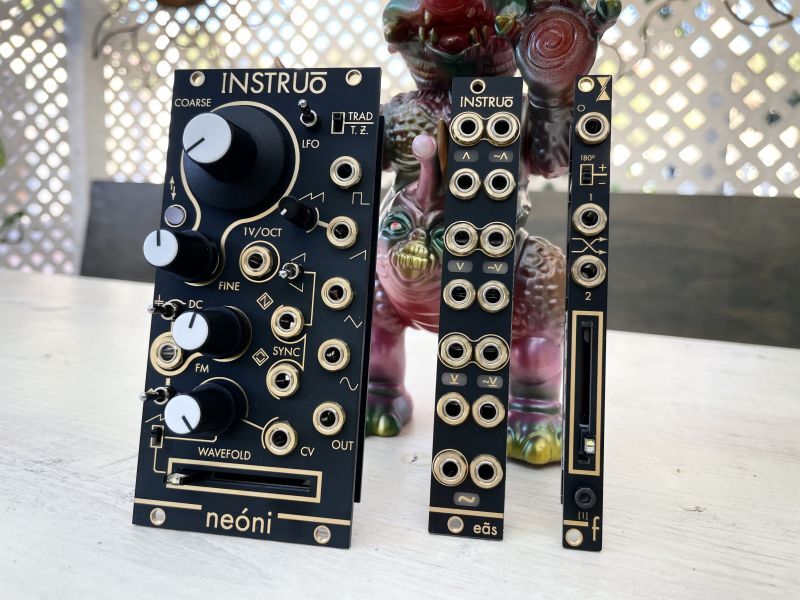 https://www.boutiquepedalnyc.com/product-list/236
neóni
| ni: Uni | verb (engineering) to adjust an instrument to zero, a point on a scale or instrument from which a positive or negative quantity is reckoned
FM with tonality! At its core, the Instruō neóni is a traditional analogue oscillator. What sets it apart from other oscillators in the Instruō product line is it's Through-Zero FM functionality with AC and DC coupled operation. Add that to its precision soft sync and directional hard sync modes, nonlinear wavefolding, internal modulation routings, and you end up with the most tonal FM sounds imaginable.
Unlike traditional FM, where an oscillator momentarily stalls as negative voltage pulls its frequency down to 0 Hz, neóni inverts the polarity of its waveforms until positive voltage pulls it back through 0 Hz. This behavior allows for complex waveforms with less non-harmonic sidebands. Less clang, more bang!
Drop it all to subsonic territory for organic modulations of morphable voltage.
Features
• Linear through-zero & traditional FM with AC & DC coupled functionality
• Internal modulation routing and general-purpose CV input with attenuator
• Split sawtooth morphing and nonlinear wavefolding
• Precision soft sync
• Directional hard sync
• Individual waveform outputs
• LFO mode
12HP 27mm
+12V: 90mA -12V: 90mA
eãs
| /es/ | noun (nature) a cascade of water falling from a height, formed when a river or stream flows over a precipice or steep incline.

Description
Logic gates were originally used for the implementation of Boolean functions in computation and in electronic devices. These functions were performed on one or more binary inputs to create a single binary output.
In music synthesis, this concept can be appropriated to be used for many things including the creation of interesting rhythmic patterns as well as what we like to call patch-based problem solving.
eãs is the be all and end all of logic modules. Sporting all of the classic logic gate functions, it includes AND, NAND, OR, NOR, XOR, XNOR, and NOT.
Everything from syncopated rhythmic structures, to CMOS-style ring modulation, to creative solutions to your patch's most glaring issues, eãs is there.
Logic, after all, is the beginning of wisdom, not the end of it.

Features
• AND & NAND gate logic
• OR & NOR gate logic
• XOR & XNOR gate logic
• NOT gate logic
4HP 27mm
+12V: 5mA -12V: 0mA

[1]f
| wuhnmf | noun (utility) because one is one.
Description
The Instruō [1]f is a crossfader, attenuator, attenuverter, and manual DC offset.
Whether you want to crossfade between two audio signals, attenuate an envelope, invert a sawtooth LFO for ramped modulation, or use a DC offset to access the Mod parameters of your arbhar, [1]f is the perfect multi-utility for all of your CV processing tasks.

Features
• Crossfader
• Attenuator & Attenuverter
• Unipolar positive or unipolar negative DC offset
• DC coupled for both audio and control voltage processing
• Bicolour LED indication of output voltage
2HP 27mm
+12V: 8mA -12V: 8mA
#instruo #eurorack #modularsynths #f #neoni #eas #buy #forsale #boutiquepedalnyc #ユーロラック #モジュラーシンセ #販売 #購入